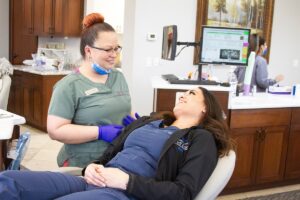 Greetings, everyone!
In order to reduce the spread of the Coronavirus, the American Association of Orthodontists has recommended that we do everything possible not to see patients in the office from now until April 25th. This date may change as more information comes in. We will keep you informed as soon as we have any additional information. 
We want to comply with this recommendation, and still, make sure each of our patients are well taken care of. 
With this in mind, we will do the following:
Reschedule the majority of scheduled patients from March 23-March 31.  

Dr. Erickson will be reviewing each patient individually who is scheduled to see us during this time, and we will be scheduling phone or video calls with Dr. Erickson where he can review treatment progress, and make recommendations.  It will require some flexibility on everyone's part, but we can make it work.   

Continue to have appointments available to make patients comfortable from poky wires, loose appliances, etc.  

Please call the office at 435-673-9661 to schedule these appointments.  Please reserve this for truly urgent needs. 
When visiting the office please do the following:
Come no more than 5 minutes early to your appointment.  The waiting area will be closed. 

Have just the patient come to the office.   

We will gladly call parents after the appointment so they can stay in their vehicles. Parents of young children are welcome to come to the office if necessary.  Please call the office as you send your child up if you have questions.  

Do not come to the office if you or someone you have been exposed to has experienced or is experiencing fever or even mild flu-like symptoms. Please call us before an appointment if this is the case and we can review how to best take care of your needs while reducing the risk to others. 
For visits to the office, we will do the following:
We will be taking forehead temperatures before patients come into the clinic

Patients will be asked to wash their hands and possibly voluntarily rinse with Hydrogen Peroxide prior to being seen in the clinic.

Patients will be spread out in the clinic to stay at least 6 feet from other patients.
We will have elastics, wax, and other supplies available for you to pick up from the office during non-patient hours.    
In order to make this process work smoothly, please do not come to the office if you are experiencing flu-like symptoms or have a fever, or have been exposed to anyone who has experienced these symptoms within the last two weeks.   
We appreciate your flexibility and understanding.  We are grateful for the chance to take care of your orthodontic needs and look forward to returning to a more "normal" state as soon as possible.  As we all follow recommendations from the CDC of social distancing and proper hygiene, we will get there sooner.  
Sincerely, 
Dr. Jeff Erickson